Temple Details
---
The Vaishno Devi temple is recognized as one of the "Shakti Peeths" of goddess ' Durga'.This holy shrine of Mata Vaishno Devi which is situated in the folds of mighty 'Tirkuta' Hills' attracts lakhs of devotees from all parts of India and abroad .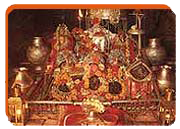 People who visit the shrine constitute a heterogeneous profile comprising of wealthy & poor, aged & young, males & females from within and outside the country. The Shrine of goddess 'Vaishno Devi' is reached by an arduous climb. .

The scenic beauty, the landscape around and the constant chanting of 'Jai Mata Di', leaves a mystic effect on the devotees. At the culmination of their pilgrimage the devotees are blessed with the 'Darshans' of the deity in her three manifestations as three Pindies, located inside the sanctum- sanatorium, which is open for the devotees through out the year in all seasons. .

It is truly a spiritually uplifting experience to witness the faith of the devotees, who are motivated to the heart by three words being chanted since the ages.

"Jai Mata Di"